Welcome to Aspidorin Dox. This is the
Homoeopathy Wholesale Ecommerce

Platform for Doctors. Here we provide…
All

SBL

Products in Maximum Discount in Wholesale Rate

Rapid Delivery at Your Doorstep

Free delivery*

Cash on Delivery Available*
SBL Biochemics Tablet Range
SBL Bio-Combinations Tablet Range
SBL Homeopathy Pomades (Cream & Gel base)
SBL Homeopathy Dilutions Range
SBL Mother Tinctures Range
SBL Beauty & Personal Care (Cosmetics) Range
The Company laid its foundation in the year 1983 under the name "Sharda Boiron Laboratories Ltd." in collaboration with Laboratories Boiron of Lyon, France, World Leader in Homoeopathic medicines since 1932. Later on changed its name as SBL Pvt. Ltd. and now SBL is the leading homoeopathic medicines manufacturing company in India that offers a wide range of world-class homoeopathic remedies including generics, single remedies, bio-chemic combinations, as well as high-quality herbal and cosmetic products.
Our state-of-the-art air-conditioned manufacturing facility at Sahibabad was built with the assistance of Boiron and continues to establish the production and testing as per International Standards and Global benchmarks.
Manufacturing facilities have been augmented with affiliate units at Jaipur, Haridwar I & II and Sikkim, matching and surpassing the standards already set.
FOCUS ON RESEARCH & DEVELOPMENT
Continuous Research & Development are the backbone of SBL's product and process development, testing methods and validation of efficacy of existing and new products.
STANDARDIZATION
In-house specifications of herbs and other inputs and finished products are developed and updated constantly for optimal advantage.
UPGRADATION OF EXISTING PRODUCTS
Efficacy of products in the company's portfolio is kept under constant review and means are developed for enhancing the same.
NEW PRODUCT DEVELOPMENT
New remedies are developed for common and chronic diseases, wherever appropriate.
PROCESS DEVELOPMENT
Manufacturing and testing methods are upgraded as an ongoing activity.
CLINICAL TRIALS
Clinical trials are conducted through well-known hospitals and independent medical practitioners for existing products as well as those under development. Clinical trials are not only time consuming but require complete infrastructure to conduct and monitor them which is often neglected by many homoeopathic companies. SBL spares no effort to subject its specialities to exhaustive clinical trials at reputed hospitals / institutions through reputed doctors / professionals before launching them in the market. Detailed clinical trial reports are available on request.
NEW DRUG PROVING (HOMOEOPATHIC PATHOGENIC TESTING)
New drugs and partially proved drugs are taken up for proving to find their therapeutic action. 3 drugs have already been proved which are:
Azadirachta indica folia
House dust allergen
Moringa oleifera
Through its R&D effort, SBL is able to constantly enhance the efficacy of its remedies, develop new remedies, utilize the curative qualities of new materials for relief from sickness, and rationalize the composition and processing cost of inputs as well as to keep costs and prices affordable. SBL is India's only homoeopathic company whose Research & Development is approved by Ministry of Science & Technology, Govt. of India.
QUALITY & CERTIFICATION
AUTHENTIC FEEDSTOCK
Herbs, minerals and organic feedstock of stringent specifications are from quality vendors in the country and abroad. Organic herbs (grown without the use of fertilizer and pesticides) are collected at the appropriate time for maximum richness in active constituents. For maximizing efficacy of the medicines, stress is placed on using fresh herbs as far as logistically feasible. This involves heavy investment in infrastructure for procuring and processing herbs in bulk in season and storing the mother tinctures in sterile condition. no cost or effort is spared for ensuring this.
EXTRA NEUTRAL ALCOHOL
Extra Neutral Alcohol (ENA) has defined specification by Bureau of Indian Standards (BIS is formerly known as ISI). The ENA procured by us is of highest purity. The ENA is transported and stored in high grade stainless steel containers and storage tanks to avoid any contamination or interaction with metal during transportation or storage. Thereafter, this high grade ENA is further filtered through 0.2 micron filters of millipore which are normally used by I.V. fluid manufacturers to eliminate all contamination and impurities if at all present.
DEMINERALIZED WATER
Demineralized water is used in the manufacturing process and for washing bottles, tubes, micropipettes, etc.
STAINLESS STEEL VESSELS
Containers and weights made of Stainless Steel are used for Hydraulic presses, which safeguards against corrosion.
BOTTLING
Bottles made of neutral glass, washed with demineralized water, and dried at 150° celsius for complete sterilization, are filled under dust-free laminar flow housing. This ensures complete purity of the contents.
Quality Control
Effective and efficient quality process have been established in the company so that the manufactured medicine which is released for sale is of standard quality. We ensure that Raw materials used in the manufacture of medicines are authentic, of prescribed quality and are free from contamination.
We use a wide range of analytical methods / techniques for chemical / material analysis / testing / characterization. We use High Performance Thin Layer Chromatography (HPTLC) which is the modern version of Thin Layer Chromatography (TLC ) wherein the principals are same but the practice is fully automated . SBL's Quality laboratories are well equipped with sophisticated instruments to maintain stringent internal quality control procedures. Analytical instruments includes CAMAG -HPTLC , Shimadzu – UV-Vis spectrophotometer , Olympus – Microscope, Brookfield – Viscometer , Polarimeter , pH meter, Conductivity meter , Water-bath, Moisture Analyzer , Refractometer to name few.
A unique feature is Microbiology section which is an essential section to carry out the microbial quality analysis of the Homoeopathic medicines . It accomplishes the sterility and microbial limit test (MLT) for Homoeopathic drugs as per rules under Drug & Cosmetic Act. Microbiology section is well equipped with all essential laboratory instruments and equipments like Laminar air flow (LAF ), Biological oxygen demand Incubator (BOD), Electronic balance, Rotary shaker, Autoclave, Hot air Oven, Colony counter, Refrigerator etc.
OUR VISION
Our vision is to create a comprehensive healthcare ecosystem by providing high-quality Natural remedies and allied products such as Homoeopathic medicines and Herbal products manufactured with the highest quality raw materials with the latest technology for the masses at an affordable price.
OUR MISSION
Our mission is to foster research and innovation towards developing cure and wellness from Natural based compounds derived from plant, herbs, salts, minerals, etc and bring its benefits to people across the globe. We value integrity, transparency, dedication, commitment and accountability in every way. We also aspire to educate people about the benefits of homoeopathy and natural products and make them the first choice in the line of treatment.
Source & Official Website- https://www.sblglobal.com/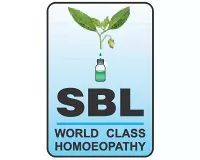 SBL
Buy 100% Genuine SBL Products online. Get complete range of SBL Homeopathy, Homeopathic Dilutions, Mother tinctures, Bio-combinations, Biochemic Tablets, Baby Care, beauty & personal care products at Best Wholesale prices from the Aspidorin dox.